MASTERCLASS BY JOHN SEYMOUR
TIPS FROM ONE OF EUROPE´S TOP 50 P.G.A PRO´S
February 2018
PUTTING STYLE CHANGES - OLD TECHNIQUE AGAINST THE NEW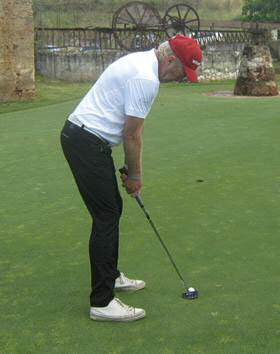 LEAD PICTURE - NEW TECHNIQUE
This picture shows how much more upright we stand over the ball in contrast to the old style. All pictures by Noah Müllener
The putting style has totally changed from 70´s. Jack Nicklaus,the most successful golfer of all time had a really classical strange and individual style that, as Jack was the King of golf in those days, often copied. The style was to really stoop over the ball and even to bend the knees to get a feeling of a closer contact with the ball and to swing the putter with the wrists. Here i have copied Jack´s style.
Pic 2 Notice how stooped and bent over the ball i am standing.
Pic 3 As i am so stooped over the ball i have to have my arms bent and seperated from each other.
Pic 4 The backswing is controlled mainly by wrist movement. Pic 5 The wrists release the follow through.
Today´s putting is much more standard with not many individual styles to be found. The modern style is much more upright with the arms and legs straight and absolutely no wrist movement.
Pic 6 Through the upright stance the arms are straighter and the elbows therefore much closer together.
Pic 7 The backswing is one piece with no wrist movement.
Pic 8 The follow through is delivered with shoulder and elbow movement.